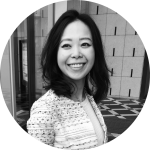 Saori Itaya
Pro-Vider has been growing internationally in the tax & accounting field in Japan and the U.S. Personally, it is a place that gives me joy as I can assist global clients with my expertise, leveraging my professional experience. I am blessed to be able to work with wonderful management and colleagues where I can feel a mutual development of trust as well as a drive to continue to strive for more. I am full of gratitude every day.
After graduating from a university in Kyoto and having worked at a Bank in Osaka, I had found my passion in accounting. In order to pursue my studies of accounting further, I then moved to New York which lead to me joining EOS Accountants, LLP, an accounting firm. Through my time at their tax department, I had the pleasure to serve Japanese corporations conducting business in the U.S. – a long cherished goal for me.
Fulfilling my time in the U.S. and having worked in Osaka, I was fortunate to connect with Pro-Vider where I came to realize my value in providing tax and accounting solutions in both Japanese and English. Wanting to expand and utilize this skill set, I decided to join and become a member of Pro-Vider.
I believe that our unique background and professionalism makes Pro-Vider the best place to work at. We, Pro-Vider Japan GK, look forward to welcoming individuals interested in working together with us as we continue to grow.